! hello populace of the United States of America [and beyond!] !
it is with utmost delight that I announce at last the cross-country North American April TOUR we have been planning for many months now.
[we are working on a pun-ny name for the tour, but didn't settle on one before this went to press.  it will come.]
here are the UPDATED dates, cities, & venues: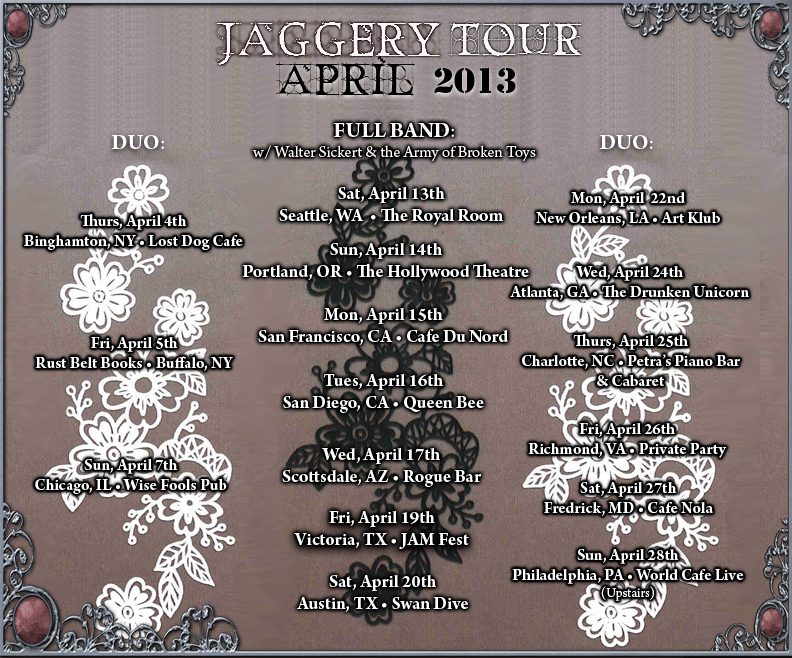 basically, the full band is touring the West Coast (for the very first time) with our friendsWalter Sickert & the Army of Broken Toys (who are touring in support of their STELLAR new album).
to make this tour happen, myself and Tony will be driving all the gear and ourselves to and from the West Coast in the conversion VAN that Tony was GIVEN, doing duo shows on the way and back.
here is a picture of the van, in the Boston snow:


(expect many more photos of this van ~ particularly the inside of it ~ throughout April, as we keep in touch with everybody at the usual social media hangouts.)
you can help us make this tour a success by COMING OUT if you are in our line of fire, and by spreading the word to those you may know in our path.
and we really appreciate this in advance & we seriously cannot wait to play for you!
for more detailed information about the individual shows, check the shows page here.
i will be updating the info as everything falls into place.
some highlights:
our Portland, OR show will feature us and the Toys playing a LIVE SCORE to the 1922 Swedish/Danish silent film, Häxan, at the Hollywood Theatre, on Sunday, April 14th:
Tony & I are working on new, never-before-performed material as part of our duo shows.
i got a new keyboard that can do electronic gorgeousness, & Tony will be multitasking on upright, electric, sintir, accordion, trumpet, and percussion (at least that is his plan ~ i'm not convinced we can fit all that stuff in the van).
Tony & I are super excited about holding things together to and from the full band leg of the tour.

check back often for updated info.
hope to see you all around these far-flung United States.
~ Singer Mali