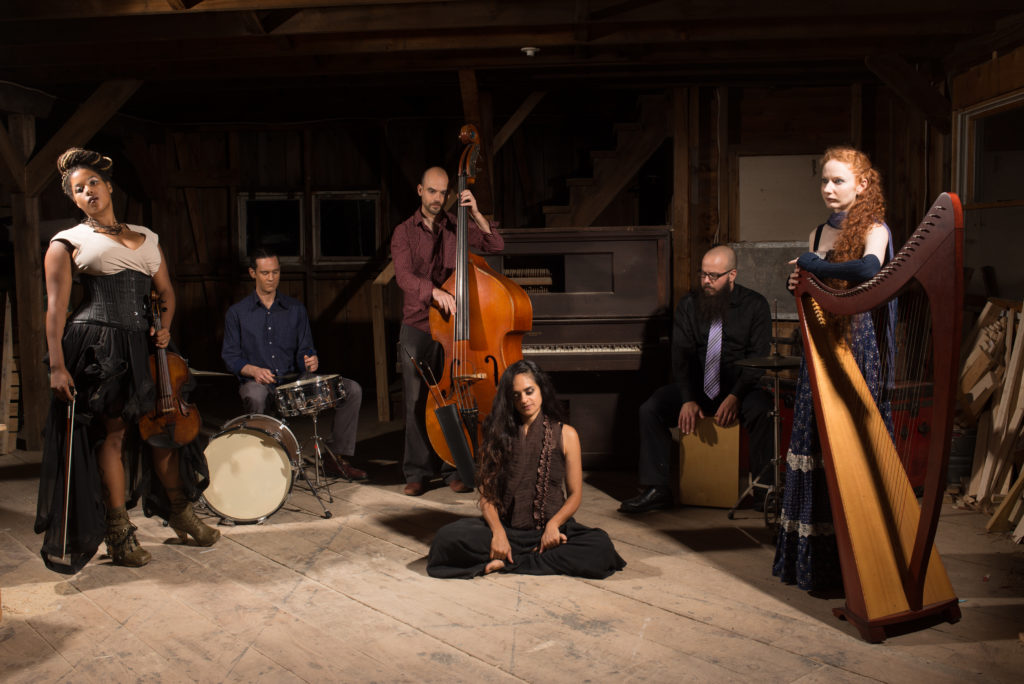 "Jaggery audiences go silent and still like people appreciating raw, scary, beautiful wildlife."  That observation was made by web magazine, Cambridge Day, in reaction to the Boston-based six-piece, who work the dark edge of a genre-defying musical style (darkwave jazz?  ethereal avant-rock?  chamber art-pop?)  Moving from haunting lullabies to intricately-woven mixed-meter rants to catharsis-inducing mini-epics, the band borrows pages out of the books of both Kate Bush and Alice Coltrane, suggesting a classical, organic, avant-jazz-oriented Cocteau Twins or a "white witch" counter to the haunting Diamanda Galas.
Jaggery found its footing in New York, writing and performing under different monikers until 2004 when the band began to take its current shape: singer/songstress/pianist Mali Sastri is flanked by a rotating lineup of musicians and instrumentation, including Daniel Schubmehl and Dylan Jack on drumkit and percussion, Tony Leva on upright and electric bass, Rachel Jayson on viola, and Petaluma Vale on harp and backing vocals.
Jaggery have brought their dark and dramatic sound to the stages of Boston's NEMO conference, Toronto's NXNE, the Museum of Fine Arts, Boston, and the Outside the Box Festival. Their live show has become as much a theatrical performance as an aural one, with the band often accompanied by dancers, aerialists, and film.
Jaggery (the word comes from the dark brown, Indian sugar) has toured nationally, and has released five recordings: 2004's In Lethe EP, 2006's Polyhymnia, 2010's Upon A Penumbra, 2012's Private Violence EP, and 2016's Crux, which garnered national and international praise for it's "exquisite, lush . . . audacious aesthetic" (Stereogum).