Singer Mali, here.  It's been 6 weeks since Jaggery returned home from our biggest adventure to date ~ the Altered States Tour.  It's taken me this long to get to a place where I feel able to even attempt to share the experience, and to reflect on it.
Jaggery has done a fair amount of touring over the years, mainly in the Northeast and along the East Coast.  The Altered States Tour was an entirely different beast, taking myself and Tony completely around this vast country, traveling through roughly 27 states, and in and out of all the Time Zones, including ones I didn't even know existed (ie Mountain Time).
The tour had three legs to it ~ the first leg had Tony and I driving the conversion van that he had recently been given by his brother-in-law (complete with purple plush interior, two count 'em two cassette decks and a vhs VCR) from Boston to Seattle, with all the gear, doing a handful of duo shows along the way.  The rest of the band would fly to Seatle and meet us for a string of full-band West Coast dates.  This second leg we shared with our dear Boston band buddies, Walter Sickert & the Army of Broken Toys.  They had a van of their own which could fit Rachel, the drums, Joel (our tour sound engineer), and the Toys themselves.  The third leg began after the last full-band show in TX, when everybody else flew back, and Tony and I began the long drive to MA, playing more duo shows.
Tony and I hit the road on April 4th.  We had given ourselves nine days to get from Boston to Seattle (over 3000 mi) and had booked three shows along the route ~ in Binghamton, NY, Buffalo, NY and Chicago, IL.
Here is Tony and I, posing cheesily in front of the van, our home for pretty much the month of April:
Here is the tightly-packed interior of the van, leaving just enough room for the harp to squeeze in: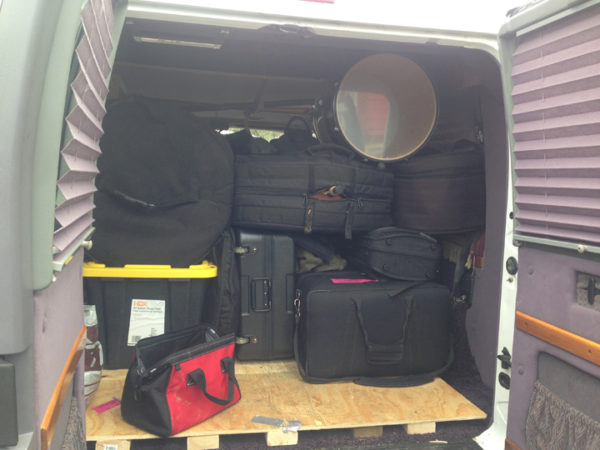 The highlight of the first leg duo shows for me was Buffalo.  We played in the darkened, candlelit backroom of a used bookstore, Rust Belt Books.  The two women who opened the show totally blew me away.  Pamela Swarts, a friend of Tony's, had set up the show, and she left me in rapture with her soaring voice, guitar, keyboard, and loops.  Lara Buckley completely overwhelmed me in the best possible sense, with a wildness and freedom of musical spirit I have only rarely witnessed, but humbly aspire to.
This is Pam during her set:
An amazing thing happened in Ohio ~ despite the fact that we'd left on different days, as well as the sheer unliklihood of such a coincidence, we ran into Walter and Edrie, who were driving the Toys van out to Seattle like us, at a rest stop.  We all decided this was very a good omen for the tour:
In IL, we stayed with my awesome interior-decorator cousin Sally, who lives in a highly unique house with soaring ceilings and trees growing inside of it.  Here's some of our gear, hanging out in what felt like a small segment of the Tropics in Palatine, IL:
After Chicago, we had four and half days left to get to Seattle.  We were starting to get into areas of this country I had never been in before.  At first, we had grand plans of visiting the Badlands in South Dakota, and Yellowstone National Park in Wyoming.  But a major Midwest storm was heading our way, directly along the route we had planned to take.  So we adjusted our expectations, realizing we would have to settle for what most touring bands have to settle with ~ you cover a lot of ground, but stopping and seeing the sites isn't part of the itinerary.
This photo was taken at a Motel 6 in Council Bluffs, NE, where we stopped after a full day of driving.  May it lay to rest any question you may have had about Tony sleeping with his bass:

The storm caught up with us on our second driving day.  We needed to pull over when night approached, despite not even having made it out of Nebraska.  We found ourselves in a sleepy, flat, tiny little town ~ Lewellen, NE ~ covered in an ever-growing layer of freshly-fallen snow.  It was very, very cold.  When we'd left Boston, it was getting springlike there.  It felt as though we'd traveled to Winter.  Too bad Tony had forgotten his winter coat.
The next morning left me with one of the best memories of the tour ~ driving hour after hour along endless, icy, flat roads of Nebraska.  Early on, we found ourselves traveling alongside a freight train, and developed a sort of symbiotic relationship with it ~ it felt to me like we were traveling in the wake of a ship.  I shot a short video that I feel captured a bit of the expansive peacefulness of this experience, but I haven't been able to figure out how to compress it enough to fit on this site.  (Taking suggestions.)
When we stopped for an oil change, we noticed geological ice formations growing on the van from the storm:
The ride into, and of out, Wyoming was absolutely stunning.  This was definitely cowboy country, and the views made it feel like we were in a Western.  Here are some shots from the road:
I hadn't even seen the half of it, but I was already experiencing the otherworldly magic of the cross-country road trip ~ seriously, folks, if you have the opportunity to do it, DO IT.  However, you will need to get used to this sight:
This was the painful reality ~ an enormous amount of gasoline was necessary for this trip, and at times it felt downright gross.  One day I aspire to use a vegetable oil-fuelled vehicle.  We did our best to stick to 55 mph to maximize our fuel efficiency, but even so, with all that gear I think we averaged 16 miles per gallon.  I had to go into denial about it, and I guess I kind of still am.
Montana, I think, was Tony's favourite.  We ended up at a place called the Mangold Country Store & Hotel, located next to a  rushing river, in a town called Saltese, MT that felt like it may have had a population of 20. (I actually just looked it up, and apparently we weren't far off ~ population is recorded at 28).  Here it is:
Here is Tony the next morning, doing his best Grizzly-Adams-on-a-cell-phone impersonation:
At that point, we had one more drive to get to Seattle.  Walter texted as as we left Idaho and entered Washington state, urging us to stop at a particular rest stop that had some pretty incredible views.  It felt like being in Lord of the Rings:
I feel very embarrassed taking photos of myself, but I snapped this one when Tony wasn't looking:
For some reason, someone didn't want anybody to know the dates associated with the geology of the area:
Still, the adventures continued ~ we managed to hit another snow storm just as we got into Seattle.  We were later told by several different people that it's always snowing on this particular route: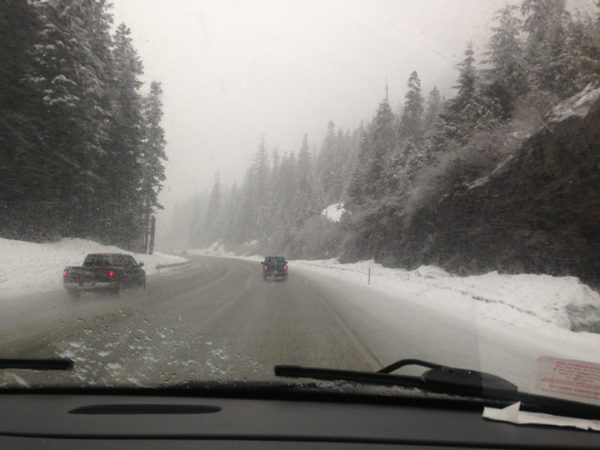 Now started the real fun ~ the full band, joint Toys, leg of the tour.  And this leg was definitely my favourite part, though it took some adjusting ~ suddenly, it wasn't just the well-oiled machine that Tony and I had become ~ we now had two more in the van with us, and eight others to contend with.  It was a sort culture shock.
The West Coast shows were fantastic.  We started at The Royal Room in Seattle ~ a restaurant and listening-room complete with grand piano.  We weren't sure if Rachel ~ who was flying in later than everyone else due to an amazing opportunity for her high school students to play at Symphony Hall back in Boston ~ was going to make our set, but two songs in, she charged the stage in a rustling flurry of taffeta and quarter-inch cables.  We played a joyous reunion set, and after the show, at the merch area, a Starbucks executive raved about us to both me and the man she was with, expressing how Jaggery should hook up with Starbucks music.  And here is where I wonder if I'm just not cut out for this job, because I didn't even get her name, let alone her card.  So if you're out there, Starbucks executive with the open-backed shirt, email me: mali@jaggery.org !
Here is a photo of me in the green room of the Royal Room, tour aglow: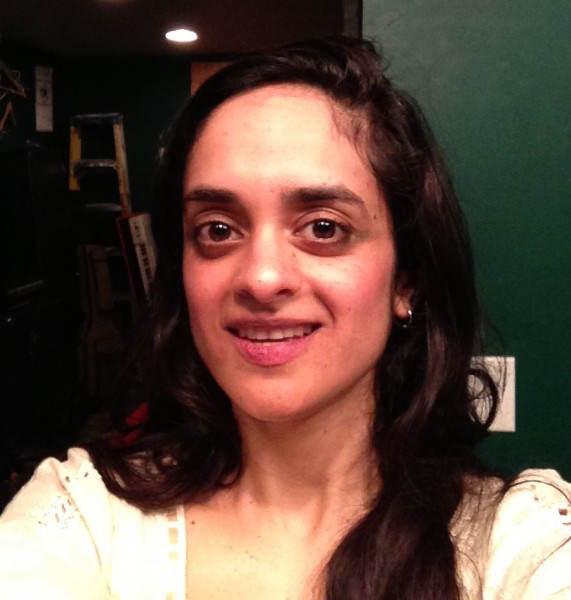 The next morning, we hightailed it to Portland, where we did a live taping for radio station KZME's "Sessions from the Box" with all-around awesome music guy, James Dineen, who had also set up our Portland show later that night.  Our session was just posted, and you can listen to it here.  James took the only full band photo we have from this tour outside his door:
Take a look at this awesome cartoon by artist Mandy Newman, that she created for the session posting.  I have to say, it's very flattering to have a cartoon made of you and your band: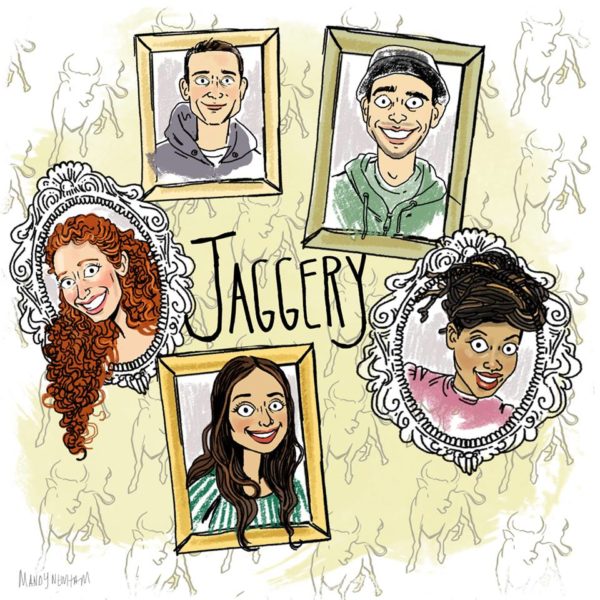 Our Portland show was the most unique of the tour ~ we weren't playing a regular old set ~ instead we, and the Toys, created a live score to the 1922 Swedish/Danish silent horror film, Häxan: Witchcraft Through The Ages.  We'd spent weeks creating a score that incorporated themes from many of our songs, as well as Foley aspects, and improvisation.  Here is the poster that James made for the event:
Here are some of us setting up and getting ready for the show: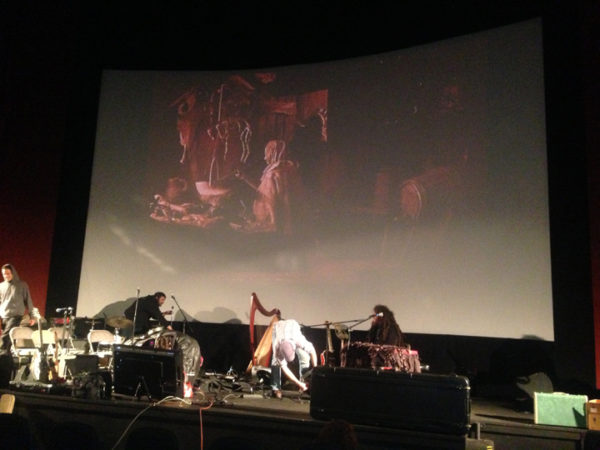 It was a very, very cool undertaking and experience, and my wheels are currently turning about doing it again in Boston.
After the show, we immediately piled back into the van and drove 420 miles overnight into California.  We would have to repeat this feat the following night.  Lulu made herself a lair in the backseat area of the van: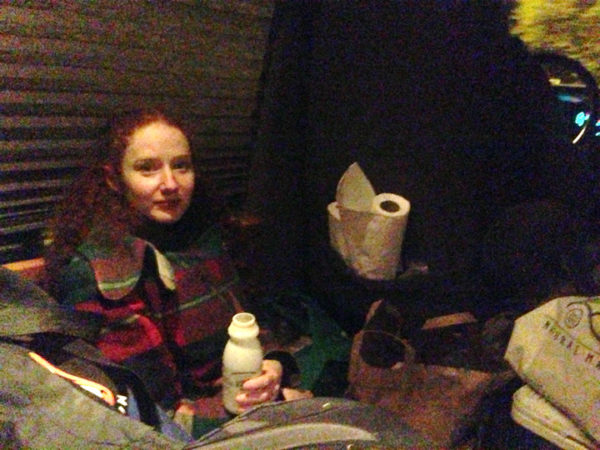 We slept maybe four hours tops at a hotel in Redding, CA, then had another 200+ miles to get to San Francisco, where we played with the incomparable Unwoman, at Cafe Du Nord (all I saw of SF). One of my all-time favourite bands, Faun Fables, showed up to support us.  Folks ~ dreams do come true.
Then back in the van to do it again — another 400+ miles overnight.  We were divvying up the driving at this point, and I was due for a shift.  I sang Madonna songs under my breath to keep myself awake at the wheel as we passed through stunning mountainous terrain and state parks in the breaking dawn hours between night and early morning.
Then another 3-4 hours sleep at yet another Econolodge (Victorville, CA), and on to San Diego.  Here is a photo from a rest stop, where everyone was too exhausted to even maintain our practice of what lulu coined Rest Stop Yoga (ie, stretching whenever possible):
In the meantime, we had heard about the Marathon bombing back in Boston, and I was feeling a mix of relief at not being there, but I think more strongly, regret, for the same reason.  I felt very far away from home, and many people I loved very much.
The surreality continued when we arrived at our San Diego venue, Queen Bee, where a Zumba class was going on on the dance floor, while Joel set up the stage: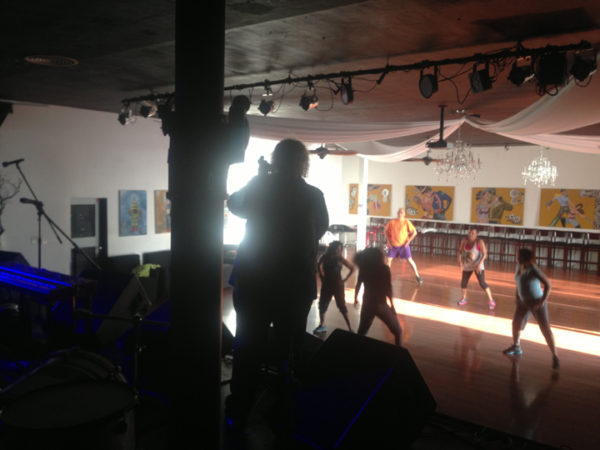 This show felt like one of the highlights of the tour for me ~ full, receptive house, unique, supportive venue (Queen Bee calls itself an "art and cultural center" ~ hence the Zumba class alongside the rock concert), and I even got to stroll around the neighborhood a bit and eat glorious vegan food at a restaurant not 2 block away.  Thumbs up, San Diego ~ you are beautiful!
Everyone felt deliriously joyful at the fact that we were actually going to get to sleep that night ~ however, a sign directly outside our rooms at this Econolodge quickly laid to rest any ideas we might have still clung to about the glamorous life of being a band on tour:
The next morning afforded some of the most spectacular views on the tour as we passed through mountains,
then desert,
and hit a beautiful sunset as we neared our next destination ~ Scottsdale, AZ:
We had another typical tour surprise when we reached the venue only to find a large hole in the front of the stage that had apparently been in the process of being fixed all afternoon, but still had a ways to go considering the first act was supposed to start in an hour:
Somehow, the stage got repaired in time, and we ended up having a blast that night.  Our friend, Tom, who was at the SF, SD, and AZ shows, wrote a blog about the ills of internet hate, and ties it into this show ~ you can read it here.
That night, we stayed at my uncle Randy's place in Mesa.  Randy is a car collector and all-around fantastic character.  Before we left the next morning, I snapped this photo of Tony and Daniel in Randy's '55 Buick Special convertible (I hope I got the model right):
Randy also has been taking care of the only car I have ever called my own ~ my '89 sandstone SAAB Turbo that I drove for many years while living with my parents in Lexington.  Sadly, it had an oil leak, & I moved to NYC where I did not want to have a car, so Randy took it out his way.  Someday, I hope to retrieve it.  Here we are, together again.  I miss you, sweetheart:
We then began a day of astonishing views and landscape shifts, driving through Arizona.  The middle of nowhere?  We've been there:
New Mexico was even more flabbergasting.  This whole trip was beginning to make me feel as though I had landed on a different planet.  This was Earth?  Not only that, this was the U.S.???  The magnitude was overwhelming to my mere human capabilities of understanding.
Lulu sighted dust devils ~ small, but powerful, and visually menacing, dirt tornadoes ~ coming our way, and not long after, we saw this comforting sign:
Soon (not) we reached Texas.  I was right at home with my fanny-pack-cum-holster belt: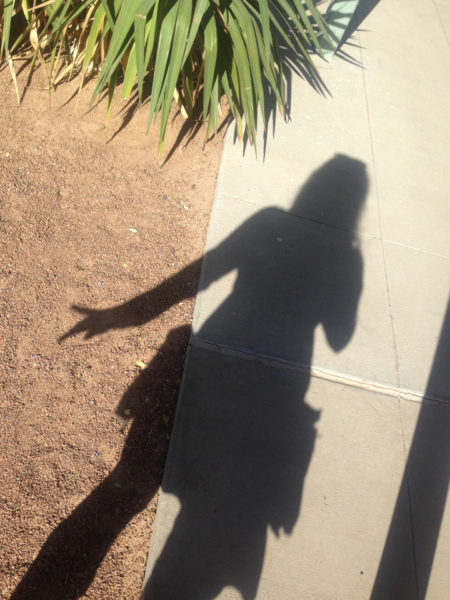 I proceeded to have a mini-meltdown that day ~ understandably, I suppose, under the conditions of prolonged exhaustion.  When we reached our Stockton, TX Quality Inn, I needed to get away from everybody and set forth on a late walk in the industrial, hotel-strewn area that our Quality Inn was situated.  I wasn't gone but fifteen minutes before I spotted a patrol car that saw me, slowed, and pulled over.  I was then interrogated about why I was out walking so late at night in this area, and was grilled for identification.  I had purposefully left my wallet, with my MA driver's license, at the hotel, thinking ~ I don't really know where I am, may as well have nothing on me just in case I get mugged (this is sometimes the way I think).  The first cop called for back-up.  Apparently, my social security number didn't register in "their system."  Keep in mind, I was also in the middle of an emotional melt-down.  But I pulled it together under the circumstances, and finally must have presented myself enough as a U.S. citizen that they let me go.
This blog is getting incredibly long-winded, so let me pick up the pace.  We played the two remaining full band shows in Victoria and Austin, TX, respectively.  The Victoria show had us fulfilling one of my personal dreams ~ to play in a gazebo.  I got to run around and sing to families sitting in lawn chairs during 'No Sympathy.'  At the same time, we had learned that Boston was in lock-down.
Our last show was in Austin, TX, and it was heartening to come across this sign:
Through it all, Daniel maintained his überclean, über raw eating habits.  Here he is pondering the health benefits of the sugar snap pea from the backseat of the van:
and ~ what else ~ munching on a durian (or is that a coconut?) outside the Austin venue:
Daniel, Petaluma, Rachel, and the Toys flew out of Austin the next morning, and Tony and I began the last leg of the tour.  This last leg was the most difficult, in my opinion.  It was difficult to keep momentum after everybody left and we were on our own again, and I think both Tony and I were getting increasingly anxious about just getting home.  But we showed up and played our hearts out for five more shows.
And our first stop was nothing to complain about ~ New Orleans.
I had never been, and was overwhelmed by the oozing sensuousness of the place ~ flowers bursting with color, lush foliage dripping from the vines, and Mardi Gras beads still strewn about the sidewalks.
We stayed with Tony's friend, Sundog, a loop artist who makes glorious, crunchy electronic and organic pop music (coming to an Org near you soon).  He set us up with a show in a huge, found-object-laden art space near the French Quarter.
I took up Petaluma's spot in the back of the van for some of this trip:
But mostly, I could be found in the passenger seat ~ bless Tony's drive-a-holic soul ~ nestled underneath blankets, with my feet on the dashboard:
On to Atlanta, GA, where we we played with the The Ghosts Project ~ these guys had played with us on our last Atlanta visit in 2007.  We also made contact with Gavin from Stickfigure, who has supported us and helped us with distribution for years, and stayed at a friends beautiful loft which she left in our care while she was at work.  We found amusement in the wireless network names:
We played an outdoor house party in Richmond, VA, and a loud raucous restaurant in Frederick, MD, where we stayed with a friends mother, whose dog made an instant impression on Tony:
Our last show was at World Cafe Live, in Philadelphia, PA, with the truly sublime and incomparable Andrew Lipke & the Azrael Quartet.  Tony and I returned to Boston on April 29th ~ and that was that.
When I got home, my apartment felt huge after living in a van for a month.  The transition was difficult for me.  In a way, it felt almost like the tour hadn't even happened ~ suddenly, I was back to my old life in Boston as though no time had passed.  The constant motion was gone, and I found myself feeling ironically ungrounded by staying put, without the structure and spontaneity of tour.  I've had to go through one of my approximately-every-three-or-four-months Question Everything periods, since being back.  But writing this blog has been helpful for me in acknowledging, processing, and integrating what was truly an awe-inspiring adventure, and one that I feel incredibly fortunate to have had the opportunity to experience.
Now, for the acknowledgements: I want to thank my Jaggery bandmates for being willing to go on this adventure with me and for working and pushing so hard; Walter, Edrie, and the rest of the Toys for being such wonderful, loving tour mates; Edrie, in particular, for all her essential planning, booking, and otherwise mothering of the tour; Joel, for making us sound better, night after night, then we ever could have dreamed; the many bands and solo acts we played with along the way who inspired and supported us; and most especially, our fans and friends ~ old and new ~ who came out to the shows, left us out of inventory of three of the four albums we brought with us, and received us with open arms and ears.  We love you, and we are looking forward to playing for you again when we can make it happen.  In the meantime, please keep in touch and know you are appreciated by some darkwave jazzers out here in Boston.
Much love, Singer Mali