Lots happening in our individual and collective lives ~ we feel lucky to say it's been a winter of collaboration and creation:
We are in the process of booking a WEST COAST TOUR in April, that will entail Singer Mali and Tony doing a cross-country duo tour to and from, and then the full band gigging from Seattle to Austin.  Stay tuned ~ check the calendar for shows as they are booked.
~
Singer Mali is taking part in an experimental multidisciplinary theater project called Lunar Labyrinth, inspired by an unpublished short story be Neil Gaiman, produced by Liars and Believers, and directed by Steven Bogart.  It goes up at Oberon in Cambridge, MA on Wed, Feb 13th, and is pretty much sold out, but if you show up early, you could get lucky.  Click on the poster image below for more info, and tickets:
Here is a little video interview of Mali talking about the show: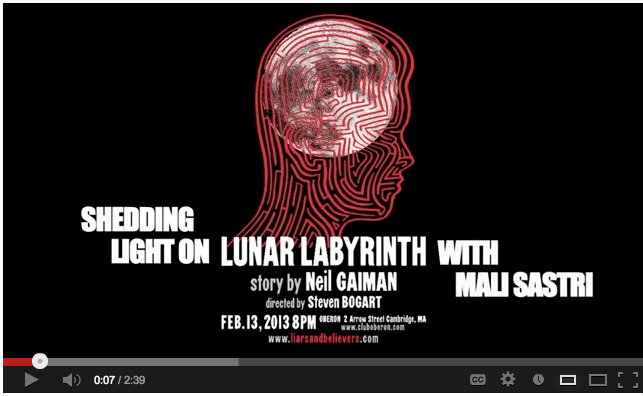 ~
Petaluma is in the process of recording her first solo album!  Go Lulu!  We'll keep you posted . . .
~
Mali and Tony are taking part in a live music & dance event, giving life to Beck's new album, Song Reader, at the historic Somerville Theater in Somerville, MA, on Thursday, Feb 28th.  Produced by Burns and Webb (Jaggery friends and frequent collaborators), the event will feature interpretations by over 150 different performers, including a 50 person choir.  It's going to be ENORMOUS.  Tony will be on stage for much of the night, and Mali will be singing as well as choreographing.  You can get tickets here, and watch a clip about the show below:
Hope to see some of you Boston folks in February, and many more of you in April!
Keep in touch.