The time has come.
We will be releasing the video to Hostage Heart next week, on Tuesday, July 16th, 2013 at 10AM EST.  We will be broadcasting the link here on our site, as well as via Facebook and Twitter.
We filmed the video in March, with director Michael McQuilken, at the Galbraith mansion in Cambridge, currently being rented by Amanda Palmer and Neil Gaiman who graciously let us take it over for a few days while they were out of town.  The shoot seemed blessed from the start, and we are all extremely excited to share it with the world.  Here are a few stills to whet your appetite:
That's all for now . . . but we will be posting more to our Facebook and Twitter pages.
•••
In addition, we are playing at the Outside the Box Festival on Boston Common on Friday, July 19th, as part of The Looking Glass Revival with our buddies, Walter Sickert & the Army of Broken Toys.
Like the banner says, this is a FREE 9-day festival of music and performing arts, and we are totally thrilled to be a part of it.  We just finished two days of rehearsals (what we call Jaggery camp) and have FOUR count'em FOUR new songs ready for the show.  We will be playing the Spiegeltent as part of this festival, and start promptly at 8:30pm.  This is the Spiegeltent: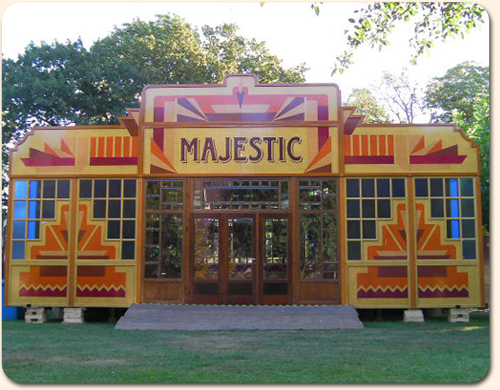 •••
In addition, Singer Mali is getting ready to share ten songs she wrote and recorded as part of a project she embarked on with painter Steven Bogart in 2011 ~ Ten Paintings/Ten Songs.  Mali and Steve met and exchanged songs and paintings over ten months, and have a gallery showing and opening reception at the Bromfield Gallery in the South End (Boston) on Friday, August 2nd from 6-8:30pm. You can read more about the project at their tumblr.  Mali is posting samples of each song as she finishes recording them ~ check here to listen.  The full band will be featured on several of the songs.  Here is a sample of Steven's stunning work ~ enamel on black velvet: